19th Infotech Forum highlights that the pandemic fast-tracked Digital Transformation escalating importance of data and security
Digital technology has transformed nearly every aspect of life, starting from travel, work, shopping, entertainment, and most of the events are converted into Digital and in the coming days, it may turn into Hybrid one. Digital has become imperative. The pandemic has highlighted the need for digitally enabled citizen centric services to improve quality of life supported by remote, contactless city operations and focus on indicators such as public health and education. 
As a result, governments around the world have dramatically scaled their digital capabilities. This year's Infotech Forum was designed with an idea of "Accelerating your Business Transformation Strategy", the forum was attended by 500 regulators, Policy makers, along with experts in technology, governance and over 127 delegates from the OEMs. During the session there were various discussions that took place - how the core technologies have created the new vision to think ahead during the virtual interaction sessions.
This time the Forum witnessed 10 exceptional founders, 15 deep tech start-ups of the new age and 25 start-ups into cutting-edge technologies such as Artificial Intelligence and Machine Learning across different industries who joined the sessions to understand how the OEMs are approaching the B2C partners across the country to support the local partners in growing and expanding their business via the digital and omni channel route, giving a boost to the local businesses in India.
On this backdrop, the 19th edition of Infotech Forum 2021 threw insight on the developing needs to lead on driving long-term value creation, through digitization. The forum also threw light on both enterprise-wide and security transformations with digitization for a substantial cost and operational efficiency.
The respected dignitaries who graced the e-event were Dr. B K Murthy, Scientist, HOD (R & D Group)- MeitY, Mr. Rishi Mehta, Technology Expert from Silicon valley, Dr. Pavan Duggal, Expert in cyberlaw and e-commerce law, Mr. Harnath Babu-  Partner & CIO- KPMG, Mr. Puneet Gupta, VP & MD- Netapp India/SAARC, Mr. Dipesh Kaura, General Manager( South Asia)- Kaspersky, Dr. Harold D'costa, CEO- Intelligent Quotient, Mr. Biswajit Mohapatra- Partner, Global Delivery Leader- IBM India, Mr. Deepak Sar, Director-Distribution & Alliance - Hitachi Vantara, Mr. Vikas Bhonsle - Chief Executive Officer - Crayon Software Experts India , Mr. Amit Luthra – Director and GM, Data Center Solutions- Dell Technologie ,Mr. Rajesh Kumar- VP-Marketing (India & SAARC)- Ui Path India, Mr. Srihari Gopinath- Sr. Director Marketing- Aruba APJ, Mr. A L Jagannath- Head of Marketing- ThoughtWorks Technologies, Ms. Preeti Kanwar, CIO & CISO- NEC India, Dr. Rajeev Papneja, Chief Growth Officer - ESDS Software Solution Pvt Ltd, Dr. Sushil Kumar Meher, CIO Dept. of Computer Facility – AIIMS, Mr. Vijay Sethi, Chairman (Advisory Board)- MentorKart, Mr. Krunal Patel, Director (Sales)- Teamviewer
Secondly, India's fintech market is the world's fastest growing – 67 percent of the more than 2,100 fintech entities in operation have been set up in the last five years. Bengaluru and Mumbai are where most fintech companies have their India headquartered – as they are the country's technology and financial hubs. The digital payments sector is expected to drive B2B demand for start-ups in the internet and e-commerce segments as they gear up to enable the technology transformation for India Inc.
As the session started, Rishi Mehta, Advisor: AirVine Scientific Inc said, "We are on this journey across different enterprise verticals where we are taking our workloads from on- prem to the cloud. Going from on- prem to the cloud you get massive scale as a result of efficiencies from compute, storage, all those attributes that we were able to get from the cloud.  Moving to cloud we all have even re-architect our applications to make their micro services capable, so that you could leverage on the cloud architectures. As we are doing more automation, more and more devices are entering our enterprise space, there is a lot more data generated. As a result of that in some applications, not only do we need to consume this data quickly and reliably, but we need to make some very quick decisions as well."
On the current scenario, Dr. Pavan Duggal, Expert in cyberlaw and e-commerce law commented, "The coming of COVID-19 is not just a public health emergency that we are experiencing. It is one of the biggest and irreversible moments of the 21st century, the coming of COVID-19 has actually seen massive adoption of not just electronic format, but also has seen tremendous advancements in cybercrime modules, cyber security breaches and now the golden age of cyber crime has begun. This golden age of cybercrime is going to be with us for a long period of time for the next many decades. So in a scenario like this, we have to be prepared for the new normal. When I look at the global scenario, I find this is an emergence of a big trend."
Deepak Sar, Distribution & Alliance Director- Hitachi Vantara, said, "Digital transformation is no longer a project, today it is a business requirement. The world we live in today is a world of edge to core to multi-cloud. These are the realities of today as the kind of data stored now starts right from the edge to the core to multi-cloud. Digital transformation has to happen across all businesses. Digital transformation stems from the need for business transformation. It will help you to transform your business for tomorrow. Organizations are trying to convert their business spaces into smart spaces. They are trying to change the way their business models are currently working."
In his welcoming note, Dr. Deepak Kumar Sahu, Editor-in-Chief, VARINDIA & Group Publications said, "Today's entire session is centred on how to Accelerate Business Transformation. I would say, it is a strategic method of getting your organization from where you are now to where you will need to be in the future. The sudden need to accelerate digital customer solutions, workforce productivity and collaboration tools, and global supply chain transformation has reframed what is possible, reset expectations around what's needed, and revealed the choke points in an environment where businesses need to continue to adapt to change. I am sure there will be various take-aways from this event."
Puneet Gupta, VP & MD- NetApp India/SAARC, commented, "Digital transformation is not something very new. It was widely discussed for the last four, five or six years, but it really got accelerated with the pandemic as it became an issue of survival. Now it became a necessity rather than like a must have. A lot of companies have clearly survived and survived by joining this bandwagon of digital transformation, aligning their businesses, more and more to it. As I joined NetApp during the pandemic, I realized that even though the physical world was completely shut during the pandemic, we still conducted business due to the fact that the company was so digitally ready at that time.  Even for a day we didn't feel as if that moving from physical to the digital world is really hurting the ability to go out and execute. Digital transformation is something that is important to each one of you."
Malay Upadhyay, Sales Engineering - Sophos India, said, "Sophos Adaptive Cybersecurity Ecosystem is a broad cybersecurity system built to optimize, prevent, detect and respond. It leverages automation and analysts to continuously improve protection. It is designed for the new reality of interconnected businesses, and the shifting cyber attack landscape. Let's now take a look at the business and attack shift that it is designed to deal with. The landscape in which cybersecurity operates is constantly evolving and there have been significant shifts in both the business environment and the nature of attacking.  In the constant search for ways to improve productivity and efficiency, organizations have created a very interconnected supply chain, along with infrastructure and technology to support it."
Speaking on how to lead innovation in data era, Amit Luthra- Director & GM, (Data Centre Solutions)- Dell Technologies, said, "What is the relationship between social technology and autonomous vehicles for an example, is there any commonality amongst each of these are either of these technologies displayed on the slide. Now the good news is that there is one common thread underneath all these technologies, and that thread is data. Every technology that we are dealing with is involved in the data ecosystem. It is either producing data, moving, managing, storing or it is analyzing and getting insights from the data. This is going to become even more important as time goes by, because this ecosystem is expanding at an unprecedented rate. We predict that by 2025 the amount of data produced will exceed 163 zettabytes. This is several orders of magnitude larger than the data produced in fact last year, and trust me it's exponentially growing. Data is not an expense in fact data is an asset and that is why we call this a data era."
S Mohini Ratna, Editor, VARINDIA, said, "Digital transformation is all about realizing new possibilities for businesses. The most successful technology shifts are embraced from the bottom up as well as the top down. Digital transformation is like many other big change projects. It's all about winning the hearts and minds of the people who will actually enter the data or use the system. It needs to be managed on a human scale. Infotech Forum is a knowledge Forum; here we discuss and deliberate about the digital technologies, meetings and tools to understand the easy ways to help you to have better access to the knowledge that can significantly alter the entire value chain." 
Amarish Karnik, Director Channel Sales, Alliances & Cloud and Service Provider (India & SAARC), Veeam Software, commented, "For Veeam, the last 18 months were really exciting. First is that we have crossed more than a billion dollar, $1.1 billion run rate revenue, which we are doing. More important is while doing this run rate revenue it is coming from 400,000 customers who are using Veeam and that is a significant value for us. Second is $1.1 billion is coming from 82% of the Fortune 500 companies who are using Veeam. They will use the traditional legacy backup, but for the modern workload or the virtualized workload they started using Veeam, that is a big achievement for us. The company was born in 2008, and achieving this is really creditable."
Panel Discussion Session - I : Technology is  getting personalised
Moderated by Dr. Deepak Kumar Sahu Chief Editor-VARINDIA
Rajesh Kumar- VP-Marketing (India & SAARC), UiPath India, said, "The logic of personalization is obviously undeniable. Various types of personalization like right segment, industry or persona can be done. It helps the customer or recipient or audience to get something relevant, which saves their time, energy and awards nuisance, by that logic it becomes actionable, and also develops empathy and trust and relationship with your brand. We all are in B2B business, the higher you go in the organization, the less time they have. More and more new technologies are coming, which allow you to do this more easily at a larger scale, and personalize what you want to do in many ways."
Kaustubh Patki- Head Marketing India, Micro Focus India, commented, "Post-Covid we have seen a huge amount of investment that is happening from marketers to digital marketing. Earlier when we had to track the customers' behavior and see what his requirements used to depend on third party cookies, and so on, so forth. But with the advances in technology, we have marketing automation platforms, which have AI and analytics built in, which helps us personalize content to the right persona at the right platform. So technology has been a huge enabler. And this is really helping bridge the gap between the customers and the organization. But at the same time, marketers have to keep in mind not to overdo this personalization, because it can reach a level of annoyance." 
Whereas Srihari Gopinath, Sr. Director Marketing, Aruba APJ said, "When your outreach is personalized, and you can give that insight back to your colleagues in sales, you can close the loop with your sales and your colleagues in channel, who eventually have to pursue those leads and opportunities that become very valuable. In reference to several tools and technologies that are today available, I think the pandemic has forced everybody in the organization to become more digitally savvy. In all these years that I have been working in B2B ID sales and marketing, the kind of questions that we get from sales nowadays and their ability to absorb what marketing gives back to them today, has probably been a revelation. Unfortunate situations have forced this, but it is just an observation. That is another aspect to this whole personalization, why it's important for marketers, and fortunately, all of us are in the B2B space."
Ankesh Kumar, General Manager (Marketing), Schneider Electric India, commented, "From marketers' point of view, personalization was always there. The way we position ourselves against products and targets are the same, what has changed is digitization. That is a key thing which we are also learning. Marketing used to be broadcast, sometimes it used to line up to CIOs, sometimes to influencers or channel partners with similar types of communication, similar types of tools. Because of digitization we know whom to speak and what. Recently the persona based marketing and sales came and using AI, ML, algorithms etc. "
According to A L Jagannath, Head of Marketing, ThoughtWorks Technologies, "We have seen from mass marketing one channel, one newspaper ad and trying to address this broad segment categorized. Now there is segmentation, micro segmentation which are pretty much localized and target individuals. At that point in time, we always thought about how I could identify my persona. We always used to wonder how to reach that guy, technology gives you the possibilities of reaching that defining individual with the product that he wants. After the CIO, CTO Marketing Officers are the second largest consumers of IT in terms of spend. So, it is our responsibility to ensure and invest in the right technologies, competencies to reach customers."
Panel Discussion Session - II : ACCELERATING YOUR BUSINESS TRANSFORMATION STRATEGY
Moderated by Dr. Deepak Kumar Sahu Chief Editor-VARINDIA
Preeti Kanwar, CIO & CISO, NEC India, said, "The ways the roles of CIO, CISO and Digital officers have changed in the past two years are really amazing. The target was what CIOs had to run the operations, data centers etc. and now in addition to that we have the target to run the business while our workforce is working from home. So it is a different kind of target. NEC being the Japanese, we were not this much equipped to work from home. Within a very short span of time we had to move our complete workforce in order to make sure that they work from home. So the expectation is that the business should continue in all situations whether a person is working from home or anywhere."
 
Dr. Sushil Kumar Meher, CIO Dept. of Computer Facility – AIIMS pointed out, "AIIMS, New Delhi works in a different way as compared to the other organizations. It is a healthcare service provider as well as a research institute and also provides high level medical education. During the pandemic the culture has been changed. Earlier we had tried our best to make virtual treatment as the culture but that was not possible due to lack of acceptance among doctors. But today the culture has changed and now doctors are asking for technology and we did not take much time to switch over to a virtual environment. Within a short period of time we have developed an in-house application and provided them the service, on the other hand patients were not ready to take virtual consultation but right now they are ready to accept it. Earlier we had a roadmap on how to roll out the IT activities in AIIMS and that has been changed and made a new roadmap on how to achieve a virtual environment."
Vijay Sethi, Chairman (Advisory Board), MentorKart, debated, "Transformation to me means to change the shape or look of somebody which means how people looked at a CIO a couple of years back and the way corporate look at CIO is very different and that is where the entire role of CIO has transformed or is transforming depending on the organization. One of the key things which really has changed over the last few years and with COVID will change even faster is that the role of CIO is going beyond just the IP piece and getting more as a business strategist helping drive the business because what COVID has showed organizations that without IT or technology the business cannot survive. The role of CIO today is transforming from just someone who is ensuring that the lights are kept on to beyond attested transformation that is happening."
According to Dr. Rajeev Papneja, Chief Growth Officer, ESDS Software Solution, "I remember the 90s when I went to the US and that was the first time I understood what a CIO is and I had not heard of it in India. But, these were the people keeping the lights on more or less responsible to make sure that the systems function as per the business requirement. By the end of 90s they were more or less looking into new or cost effective technologies, ERP is to be considered for the organization, putting them in place, cost cutting remained one of the focus areas. And every time I hear that the CIO role is now more or less obsolete, it just comes back with more force and impact. Today's CIO is equivalent to a CEO actually in this digital world, if you see from Information Officer it became an Innovation Officer in the last decade, because last decade was more of an innovation driven technology decade."
Alok Sharma, Country Manager - Channels (India & SAARC), Autodesk, said, "There are four key steps that an organization needs to take in order to successfully undergo digital transformation. First, they have to think ahead and create a strategic digital roadmap that is integrated into their overall business plan. Second is to choose digital tools that integrate easily, whether it is selecting a construction site to be in office, or having different stakeholders in the design, build and make lifecycle. Third, when we talk about digital transformation it is to effectively manage events, whenever we are challenging the status quo or planning any kind of transformation, there is an element of risk, so you need to effectively manage that risk. And finally, how do customers use data connected products and services to standard customer relationships, at the end of the day, all of us are in business because of our customers."
Panel Discussion Session - III : ACCELERATING YOUR BUSINESS TRANSFORMATION STRATEGY
Moderated by Dr. Deepak Kumar Sahu Chief Editor-VARINDIA
Kamal Dhamija, CISO, Trident India, said, "Being a CISO it is important that you have to make a balance between the IT services, and security. It should not be like a business need not to survive but you have to focus on security. One always needs to balance between these two.   Whenever you are making any kind of payments specifically to any vendor you have to be double sure about the security. Also validate from the vendor if you have received any e-mail requesting for payment account change.``
Biswajit Mohapatra, Partner, Global Delivery Leader, IBM India, commented, "The pandemic brought unprecedented challenges, at the same time created unique opportunities for all of us. We have become more intelligent, more inter-connected and more instrumented today. The entire business paradigm has started shifting. There is an evolution of a new business model and new type of work culture and the need of building restless talent. As everything is moving online, security has become the most critical foundation. All the steps of hardening the existing system, deploying in the hybrid or multi-cloud model, managing risk and compliance and automating governance processes play critical roles in protecting critical infrastructure. All these play a critical role when you put cyber security strategies in your business strategy."
According to Dipesh Kaura, General Manager ( South Asia), Kaspersky, "In every six or seven months a new tool is coming up to solve some of the other problems of cyber security. At the end we will have a museum of tools leading the complexities in figuring out what is the right problem and what to use. As a culture organizations need to imbibe the responsibility of being cyber aware and organizations should take steps to prep their people. As a CISO I will primarily do one cyber security exercise every six months to understand the sensitivity. It is very difficult for cybersecurity experts to block everything. From the moment they start blocking there comes so much resistance from the end users."
Whereas, Harnath Babu, Partner & CIO, KPMG, said, "In a legacy organization or a born digital organization technology has become an integral fabric and data has obviously become the most important asset. The role of cyber security needs to be redesigned as we create digital enterprises. Organizations when they look at digital transformation experience it is about re-looking the deployed technology and securing the overall architecture. It is like not limiting to one application but overall security architecture to be relooked at from a security perspective. Cybersecurity has to be integrated into overall enterprise risk management, rather than running a standalone initiative. One also needs to prepare the team with the knowledge for prevention, security, and product development."
Dr. Harold D'costa, CEO, Intelligent Quotient, debated, "Cyber space is still not a well guarded space. When we talk about building up or integrating cyber security with business strategy, data is very important for an organization. In today's scenario no organization would have their data to be restored across without having any security. Customers have become very cautious about it, and they are asking the organization about compliances, security practices they follow. If the organization has a proper cybersecurity practice in place, which ensures that any legal issues will not come, if there is any breach which takes place and no particular loss to the organization can happen, only then they become conscious that yes, this is the organization that we will do business with."
Most Trusted Company
Every year VARINDIA conducts an annual survey on the performance of the OEMs in the industry, considering product performance, R & D support, On-time availability and most importantly post-sales support. 50 vendors have  gained unique confidence of the consumers in their respective areas and have been positioned as the Top 50 Most Admired Brands in India by VARINDIA. This testimonial reflects the overall performance in the Indian market, where hundreds of technology brands were evaluated first by the industry leaders and then by our editorial team. The listed vendors are as below: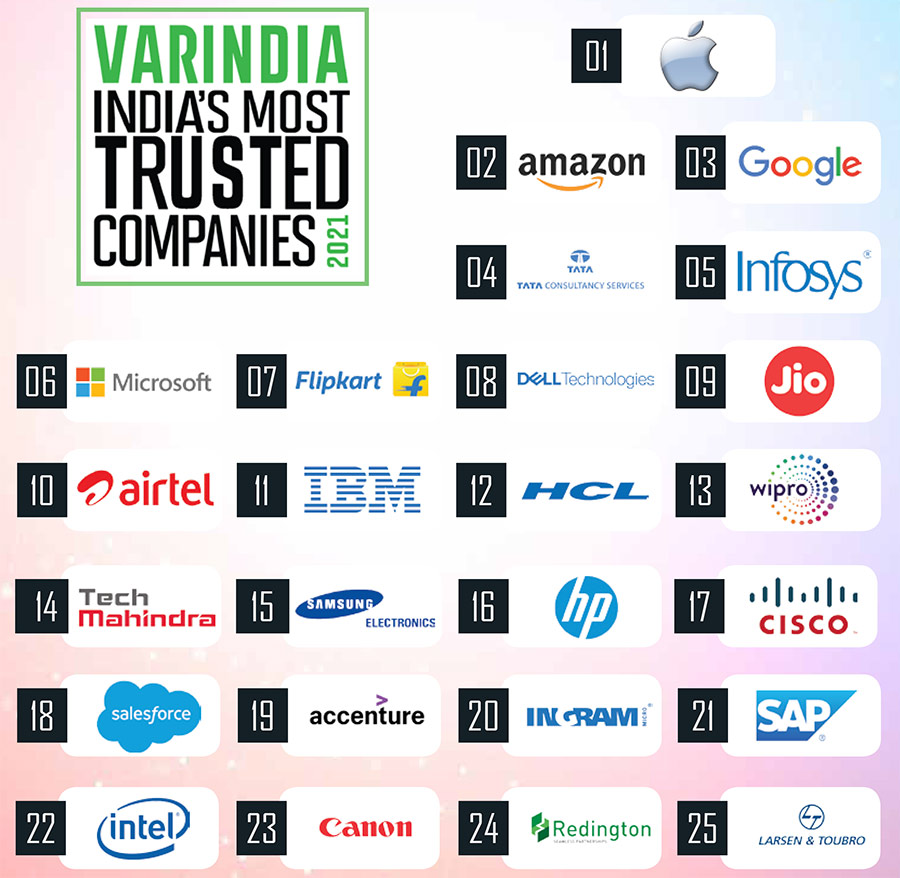 50 Most admired BrandS 2021
1.    ACER INDIA PVT. LTD.
2.    ALCATEL LUCENT ENTERPRISE, INDIA 
3.    AMD INDIA PVT. LTD.
4.    ARUBA NETWORKS- A HEWLETT PACKARD COMPANY
5.    AUTODESK INDIA LIMITED
6.    AXIS COMMUNICATIONS PVT. LTD.
7.    CADYCE
8.    CHECK POINT SOFTWARE TECHNOLOGIES INDIA PVT. LTD.
9.    COMMSCOPE INDIA PRIVATE LIMITED
10.    COMMVAULT SYSTEMS INDIA PVT. LTD.
11.    CP PLUS INDIA PRIVATE LIMITED
12.    CTRLS DATACENTERS LTD.
13.    DLINK INDIA LIMITED
14.    ESDS SOFTWARE SOLUTION PVT. LTD.
15.    FORTINET TECHNOLOGIES INDIA PVT. LTD.
16.    PRAMA HIKVISION INDIA PVT. LTD.
17.    HITACHI VANTARA INDIA PVT. LTD.
18.    HEWLETT PACKARD ENTERPRISE
19.    HUAWEI TELECOMMUNICATIONS (I) CO PVT. LTD.
20.    IVALUE INFOSOLUTIONS PVT LTD.
21.    GN AUDIA INDIA PVT. LTD. (JABRA) 
22.    KASPERSKY LAB
23.    LG ELECTRONICS INDIA PVT. LTD.
24.    NEC CORPORATION INDIA PVT. LTD.
25.    NETAPP INDIA LTD.
 
26.    NTT LTD. INDIA
27.    NUTANIX TECHNOLOGIES INDIA PVT. LTD.
28.    NVIDIA GRAPHICS PVT. LTD.
29.    ORACLE INDIA PVT. LTD.
30.    PALOALTO NETWORKS INDIA PVT. LTD.
31.    PLANTRONICS COMMUNICATIONS INDIA PVT. LTD.
32.    QUALCOMM INDIA PVT. LTD.
33.    R&M INDIA PVT. LTD. 
34.    REDHAT INDIA PVT. LTD.
35.    SAS INDIA PVT. LTD.
36.    SAVEX TECHNOLOGIES PVT. LTD.
37.    SCHNEIDER ELECTRIC INDIA PVT. LTD.
38.    SEAGATE TECHNOLOGY HDD INDIA PVT. LTD.
39.    SONICWALL TECHNOLOGY SYSTEMS INDIA PVT. LTD.
40.    SOPHOS TECHNOLOGIES PVT. LTD.
41.    SUPERTRON ELECTRONICS INDIA PVT. LTD.
42.    TEAMVIEWER INDIA PVT. LTD.
43.    TECH DATA ADVANCED SOLUTIONS (INDIA) PVT. LTD.
44.    THALES INDIA PVT. LTD.
45.    UIPATH ROBOTIC PROCESS AUTOMATION INDIA PVT. LTD.
46.    VEEAM SOFTWARE PVT. LTD.
47.    VERTIV ENERGY PVT. LTD.
48.    VIEWSONIC TECHNOLOGIES INDIA PVT. LTD.
49.    VMWARE SOFTWARE INDIA PVT. LTD.
50.    WESTERN DIGITAL (UK) LTD.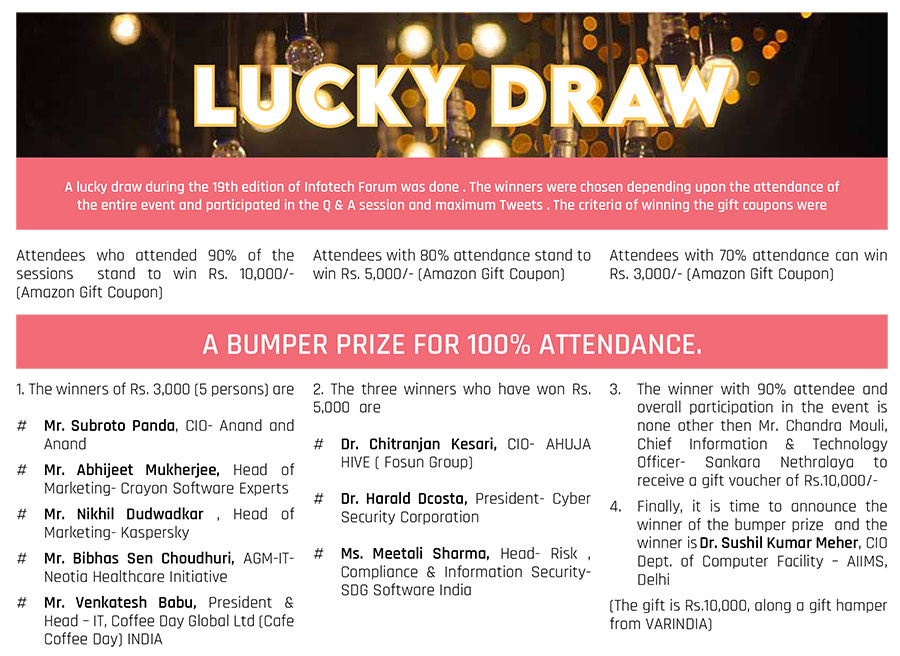 In a presentation Krunal Patel, Director (Sales), TeamViewer, said, "TeamViewer since the beginning in 2005 have been constantly focusing on delivering solutions which are suitable for remote support and remote operations. In 2018, we launched our first Industry 4.0 product from TeamViewer IoT, and last year we acquired augmented reality companies to strengthen our portfolio. Today there are three major areas where we focus, one is IT Operations and Support, managing IoT devices, IT operations, security, and the entire collaboration piece, Corporate IT solutions for remote connectivity and customer engagement and customer experience and Industry 4.0 around Internet of Things and augmented reality. We are supporting large and small enterprises across the entire value chain, starting from product development."
Sharing insights on security and cloud services, Vijay Muthu, Public Cloud Security Sales, Fortinet Technologies India, commented, "The digital transformation conundrum is basically to solve the question of where to start your digital transformation journey. At one end of the spectrum you have organizations of all sizes trying to digitally transform, digitally reinvent themselves to survive the new normal. They are using Cloud as the main driver for this business transformation. So much so that today you can confidently say that a cloud transformation is a necessary precursor for any digital transformation exercise in an organization. A recent finding found that the journey to the cloud is not that easy for our customers. Companies reported that about 74% of them move the apps to the cloud, and then move them back to the on-premise. We call this the bi-directional cloud hybrid. It is because customers are moving to the cloud but they also are choosing the way to interact with the cloud, and many are choosing to give up that journey and get back to the safety of on-premises."
In the fire-side chat Vikas Bhonsle, Chief Executive Officer, Crayon Software Experts India, said, "In many ways it has become a crowded market where everyone is talking about the same kind of services. Hence making a differentiation to be able to be successful is very important. The work that we do with ISV through the ISV Incubation Center which is all about educating, activating and enabling the ISV is a big area of differentiation for us. We make ISV solutions available on different clouds, we help them to go to market, sell, and we absolutely understand the technology needs of the ISVs, and we work with more than 200 of these ISVs today. We have invested in our own platforms, Cloud-iQ is one of them which is our automation and provisioning platform for cloud which works for all kinds of cloud providers is a definite point of differentiation."
After this, Gaurav Chawla, Business Development Manager, VMRay, in his presentation said, "Today, as we all know, most of the customers have already deployed, different kinds of sandboxing solutions, but still we are facing the challenges, the ransomware attacks, different kinds of malware intrusion into the network, and it is happening because till now we have to accept the fact that Sandbox has always been considered as one of the good to have but not a must to have technology. VMRay focuses on the deep level analysis and we ensure to provide maximum information based on the malware submitted to us and which basically helps the malware analyst or the incident response team to focus on the required content, not to focus on any other not required information."
The event ended with happy notes along with a vote of thanks from the editor. S Mohini Ratna, Editor, VARINDIA, said, "A very Good evening to all, I feel honoured and privileged to get the opportunity to propose the vote of thanks on this special day. On behalf of VARINDIA, I convey my regards and hearty thanks to our esteemed guests who took out time from their busy schedules and were present here. I also like to thank all the honourable delegates whose presence has made this event a grand success. I extend our heartiest thanks to all the sponsors who have supported us whole heartedly. Words are not enough to tell you how this event is going to help us in shaping the industry. Hope this evening has enlightened you with the ongoing industry happenings and gave you the image of a future prospect.  Thank You very much for being such a lovely audience. We will meet soon personally when the situation is conducive and with a positive thought I bid goodbye."
BRAND ICONS OF THE YEAR 2021

The Eminent CIOs of India
Name
Designation
Company
Jaideep Khanduja
Naseem Halder
Rupesh Nain
Yogesh Dadke
Sourav Das
Anand Rao
Dr. Chitranjan Kesari
Jitendra Mishra
Dr. Sushil Kumar Meher
Venkat Ramani
Subroto Panda
Sandeep Jamdagni
Veneeth Purushotaman
Avinash Velhal
Yogendra Singh
Dr Mukesh Mehta
Prashant Bokil
A Shiju Rawther
Anuj Agarwal
Umesh Mehta
Kumar Prasoon
Dr. Lopa Mudraa Basuu
Venkatesh Babu S
Avneesh Vats
Pooja Chatrath
Anil Nama
Dr. Harold D'costa
Dr. Makarand Sawant
Sanjay Kumar Das
Manikant Singh
Mrinal Chakraborty
Rajesh Chopra
Subodh Nair
Prakash Dharmani
Dr. Rajeev Papneja
Dr. Sindhu Bhaskar
Sumit Puri
Ganapathy Subramaniyan
Balakrishnan A
Dr. Vineet Bansal
Dhaval Mankad
Ninad Raje
Harsh Arora
Dr. Harsha E Thennarasu
Sanjay Deshmukh
Subram Natarajan
Vivek Ahuja
Archie Jackson
Atul Govil
Sanjeev Sinha
Ravinder Arora
Sanjeev Jain
Shailendra Choudhary
Dr. Pavan Duggal
Sandeep Sengupta
Vishwajeet Singh
Amit Bhatia
 
CTO
CISO
VP & CIO, Natural Resources
IT Leader - Global Control & Compliance
Chief Digital & Information Officer
Co-Founder & CEO
CIO & IT Head
VP (Group - CIO)
CIO, Department of Computer Facility
CTO
CIO
Head IT
Group CIO
RBU Growing Markets, IT & Process
Head - IT/SAP
CTO
CTO
Chief Information & Technology Officer
Chairman
President
Chief Enterprise Architect/ COO and CIO
Advisor
President & Head - IT
Head (IT)
CIO
CIO
President
Sr. GM - IT
WBCS (Executive), Joint Secretary
CISO
Executive VP, Technology & Innovation
SVP - IT
Head - IT
Global CIO
Chief Growth Officer
Co-Chairman & Founde
Group CTO
CIO
Executive Director
CIO
VP IT
Director & CIO
Group Head IT
Chief IT & Cyber Security Advisor
Head of Group - IT
CTO and Director, Technical Sales
Director IT - MEA & India
Sr. Director, Head IT & Security
Chief Transformation Officer Head (SAP & IT)
President - IT & Digitization
Global CISO
CIO
VP & Head - IT
Chairman
Director
Sr. VP & CIO
CIO
 

Acciomango Pvt. Ltd.
Acko General Insurance Ltd.
Adani Group
Adient Technologies Llc
Aditya Birla Group Essel Mining & Industries Ltd.
Ag O2O Stores Llp
Ahuja Hive Pvt. Ltd.
Alembic Pharmaceuticals Ltd.
All India Institute Of Medical Sciences (AIIMS)
Alliance Broadcasting Pvt. Ltd.
Anand And Anand
Ashiana Housing Ltd.
Aster Dm Healthcare
Atos Global It Solutions And Services Pvt. Ltd.
Barista Coffee Company Ltd.
Batlivala & Karani Securities Pvt. Ltd.
Being Human Clothing
Care Ratings Ltd.
Centre For Research On Cyber Crime And Cyber Law
Cio Klub
Cirrus1co
Cloud Security Alliance Apac Research Advisory
Council
Coffee Day Global Ltd.
Convergence Energy Services Ltd.
Cryoviva Biotech Pvt. Ltd.
Ctrls Datacenters Ltd.
Cyber Security Corporation
Deepak Fertilisers And Petrochemicals Corporation Ltd.
Dept. of IT & E, Govt. Of West Bengal
Dmi Finance Pvt. Ltd.
Dtdc Express Ltd.
Eih Limited - The Oberoi Hotels And Resorts
Elgi Equipments Ltd.
EPL Ltd.
Esds Software Solution Pvt. Ltd.
EST Global Inc.
Evercare Group Management Ltd.
Everise
Geojit Financial Services Ltd.
Greenpanel Industries Ltd.
Havmor Ice Cream Pvt. Ltd.
Healthassure
Hindustan Powerprojects Pvt. Ltd.
Hkit Security Solutions
Hyundai Motor Group
IBM
Idemia
Incedo Inc.
India Glycols Ltd.
India Power Corporation Ltd.
Infogain
Integreon
Interarch Building Products Pvt. Ltd.
International Commission On Cyber Security Law
Isoah Data Securities Pvt. Ltd.
Ixcheck Technologies Pvt. Ltd.
 
 
 
Harikesh Mishra
V. R. Iyer
Krc Murty
Srinivas Rao Kollipara
Harikrishna Ragupathi
Piyush Chowhan
Kapil Madan
Preeti Kanwar
Bibhas Sen Choudhuri
Amitabh Mishra
Anand Sinha
Sanjay Gahlod
Dr. Deepak Kalambkar
Basant Kumar Chaturvedi
Amit Kapoor
Paul Raj M
Tarun Bali
Chandra Kishore Prasad
Dr Balasubramaniam O A
Pragnesh Mistry
Kripadyuti Sarkar
Dr. N. Raveendran
Chandra Mouli
Ajay Yadav
Meetali Sharma
Dr. Karnika Seth
Puneesh Lamba
Tejas Shah
Sendil Kumar.v
Hariharan Subramani
Rajeev Khade
Anand Ruhela
Viloo Williams
Vijay Bhaskar
Anjani Kumar
Karunanithi S
Sreekumar Balachandran
Virendra Vishnu
Yogesh Kumar
Ved Prakash Nirbhya
Shobhana Lele
Dhananjay Chandrashekhar Rokde
Man Mohan Goyal
Sajith Chakkingal
Dr. Ashish Bharadwaj
Prashant Kumar
Deepak Panda
Prof. Triveni Singh Ips
Robin Joy A
Ashish Mathur
Bhaskar Rao
Parveen Kumar Sharma
Dr. Sayed Peerzade
Bipradas Bandyopadhyay
Vijay Sethi
CISO & Additional GM (IT)
Group CIO & EVP - IT
Senior VP & Head - IT Apps RTB
CIO
VP – IT
Group CIO
CISO
CIO, CISO & Head – Digital Workplace
AGM IT
Senior IT Executive
CIO & Director IT
GM - System & IT Department
AVP Infrastructure & CSO
Associate Director IT / CIO
Group IT/Application Head
GM & IT Head
AVP & Head IT, India & South Asia
Executive Director
CIO
Group IT
VP – IT
VP – Enterprise wide Solutions
Digital Strategist & Technology Advisor
Head- IT & SAP
Head - Risk, Compliance & Information Security
Cyberlaw expert & Founding Partner
CTO
Deputy Director-IT
CTO
VP - IT
VP - Global IT
Head IT
CIO
Head - IT
CIO
GM – IT
Global IT Head
VP - Digital Transformation
Head - IT & Business Applications and CISO
CIO
CIO
CISO
Advisor IT Corporate
Head of Global Technology Services & India
Technology Centre
CIO
CIO
GM – IT
SP, Cyber Crimes
VP & CIO
Sr. VP
Asst. GM - IT
CTO & Consultant – IT
Executive VP & Chief Cloud Officer
CIO
Digital Transformation and Sustainability
Evangelist and Advisory Board Member
Jaquar & Company Pvt. Ltd.
Jaypee Group
Jbm Group
Kotak Mahindra Bank Ltd.
L&t Idpl
Lakshmi Machine Works Ltd.
Lulu Group International
Minda Corporation Ltd.
Nec Corporation India Private Limited
Neotia Healthcare Initiative Ltd.
Novartis
Ocs Group Uk Ltd.
Oriental Rubber Industries Pvt. Ltd.
Paygate India Pvt. Ltd
Perfetti Van Melle India Pvt. Ltd.
Pristine Group Of Companies
Puravankara Ltd.
Quest Retail Pvt. Ltd.
Railtel Corporation Of India Ltd.
Roots Industries India Ltd.
Rpg Enterprises
Rupa & Company Ltd.
Sakthi Finance Ltd.
Sankara Nethralaya Medical Research Foundation
Sbl Pvt. Ltd.
Sdg Software Corporation
Seth Associates
Shahi Exports Pvt. Ltd.
Shri Vile Parle Kelavani Mandal
Shriram Capital Ltd.
Shriram Properties Ltd.
Sigma Electric Manufacturing Corporation Pvt. Ltd.
Sikkim Manipal University
Sir H N Reliance Foundation Hospital
Srikalahasthi Pipes
Strides Pharma Science Ltd.
Suguna Foods Pvt. Ltd.
Suntec Group
Sysnet Global Technologies Pvt. Ltd.
Tata Advanced Systems Ltd.
Tech Mahindra
The Bombay Dyeing And Manufacturing Company Ltd.
The Multi-commodity Exchange Of India
Tide Water Oil Co. ( India ) Ltd.
Tmf Group
Torrens Global Education Services
Triveni Group
Umsl Ltd.
Uttar Pradesh Police
V Guard Industries Ltd.
Valuefirst Digital Media Pvt Ltd
Vasai Vikas Sahakari Bank Ltd.
Vianaar Group
Yotta Infrastructures Solutions Llp
Zuari Infraworld India Ltd.