Women's Day 2022: Building a world of Diversity and Inclusiveness
Women have been playing a crucial role in every sphere, including science and technology. They have gone beyond general perception and literally touched the sky today. With proper mentorship and guidance, women have the ability to be driven towards excellence.
Like every year International Women's Day will be observed on March 8, but this year the theme is #BreakTheBias. The goal is to address the existing bias or norm in the society which makes it so difficult for women to move ahead, while also highlighting the importance of a world free of bias, stereotypes, and discrimination.
The United Nations will observe International Women's Day virtually on 8 March and the theme for this year's observance is "Gender equality today for a sustainable tomorrow". This year's IWD observance is in recognition and celebration of the women and girls who are leading the charge on climate change adaptation and response, and to honour their leadership and contribution towards a sustainable future.
Women representation in Tech industry
Technology has had a tremendous and an unimaginable impact on human life. Yet women are currently underrepresented in the tech industry. It needs more of the female gender to facilitate better problem solving ability and increase performance at business level. Despite the huge amount of research and meticulously curated data confirming that companies tend to be more profitable, reputable, and have a healthy growth relationship when they have more women in leadership positions, we still get to see a gender gap in most companies.

In 2022, a change in mindsets at a cultural level is what is expected to bring in some tidings while also encouraging more young women to pursue their dreams.
Rimi Das, Head Of Marketing, India Region - Pure Storage
"For Pure Storage, we look at talent holistically and not merely from a gender perspective. We believe in encouraging representation and participation of diverse groups of people. This includes not only people of different genders, races and ethnicities, abilities and disabilities, religions, cultures, ages, and sexual orientations, but also those with diverse backgrounds, experiences, skills and expertise. We have seen the benefits of a diverse workforce translate into record earnings for the company. We definitely still have some way to go but we've made important strides. We cannot let up on education and awareness but once companies see the benefits of a diverse workforce, they will never turn back."
Ina Bajwa, Sr. Director, Human Resources - Tata Communications
"At Tata Communications, we believe that diversity of talent is the key to our success. People of different genders, backgrounds, skills, and perspectives enable us to anticipate and respond to changes in our industry with agility and address our customers' evolving needs more effectively.
One of the key approaches to breaking bias is through constant education on being aware, and regular listening opportunities with employees. We do regular pulse surveys which provide a safe channel for employees to share the improvements they'd like to see in the workplace, policies and practices. In addition, we also run an annual survey where we seek feedback on all possible dimensions of working from the employees, and the results are viewed holistically, and action plans are put in place to introduce relevant changes. Our Global Part Time Work policy, Work from Home Policy and Caregiving Policy in conjunction with LEAP (Life Event Assistance Program) are the result of some of the feedback received from the listening channels, which today help employees balance their personal needs and professional responsibilities at the same time."
Belinda Jurisic, Vice President Channel, Cloud and Service Provider Strategy & Management - Veeam
"This year's theme Break the Bias is important and timely because it's time to speak up. Really speak up. It's about finding opportunities to use your voice to affect change. We can all do this. You may not get it right every time, but you will learn every time you speak up. And then, when you start to see things changing because of what you've said, embrace it and own what you've asked for. International Women's Day is a reminder to celebrate the role women play in industry and to support and learn from each other. There are markets I work in that I can be myself and then there are somewhere I have faced criticism based on my approach. Often these are criticisms that a man wouldn't face in the same situation. And so, as a woman you must have strength to stand your ground. There is a quote that I love, which is, 'don't try to be a man, it's a waste of a good woman'. We were chosen for a reason, to bring that diversity of thought and our unique strengths to the table."
Ramalatha Marimuthu, IEEE Senior Member
"The need to sustain gender equality in technology careers stems from the fact that a large chunk of trained and talented technologists is unable to contribute to the economic growth of the country. For most women who aim to become engineers and technologists, their dreams and ambitions take a backseat, to other responsibilities and familial duties. Nevertheless, every woman must nurture their dreams until the end. Each woman is born with what it takes, and she must realize those dreams despite the circumstances. The choice and the responsibility are hers and hers alone. My only urge to my fellow women is – Make the choice and live your dreams"
Start-up ecosystem & women entrepreneurs
Talk about the booming Indian startup ecosystem and linked to this success story is the wonderful journey traversed by women entrepreneurs of the country. India is seeing a meteoric rise in women entrepreneurs. With one out of every 5 startups successfully run by Indian women, they are seen to have the potential to be the biggest force in India's growth story. Innovative startups have sprung up across the country in which women are heading key positions. Women in leadership roles are increasingly acknowledged as bringing an extra degree of multitasking, empathy, intellect, assertiveness, and determination to thrive in real estate business circumstances.
Sheatwork, a one-stop knowledge hub for women entrepreneurs, unveiled a report on 'State of Women Tech Entrepreneurship in India' in partnership with Techarc, a leading technology analytics, research, and consultancy firm. The report highlights that while the number of female students in leading engineering institutes like the IITs has increased from a mere 5% about four years back to 16% now, this is not really translating into more women starting up companies. In fact, going by current trends, India should have more than 200 unicorns (startups with at least $1 billion valuation) by 2025, many of them going public, but this growth story will be primarily led by men.
Interestingly, the report, based on a survey of 2,000 women across India including women professionals, students, start-up founders and business leaders, highlights that almost 48% of women in non-metros are eager to take up tech entrepreneurship as a career option vis-à-vis 23% in metros who would like to pursue their own ventures.
A look at some of the success stories curated by women entrepreneurs, who created a mark in the fast-emerging segment that subsequently helps in contributing to the economy -
Dr. Pragati Singh, Founder and Director - Indian Aces
A medical doctor, a social entrepreneur, and an internationally renowned changemaker, Dr. Pragati Singh, Founder and Director - Indian Aces is known for her work for the minority communities in India. Globally, her unique initiatives in these niche fields, such as Indian Aces: India's first initiative working towards asexuality, HumansOfQueer.com: a platform for LGBT+ people's stories, SAMHA - Sexual and Mental Health Association: a UNDP backed startup to sensitize professionals from the fields of medicine and law, and many more is well known.
Starting with a simple Facebook page in 2014, Dr. Pragati Singh's initiative Indian Aces risen to international stature over the years. What hasn't changed though is her association with GoDaddy as her one stop shop.
Deepti Verma- Founder, Seventh Heaven Experriences Pvt. Ltd.
Rajasthan being her hometown, Deepti Verma always had a liking to explore this destination to the interiors and with time she became an enthusiast traveler. Deepti's no compromising attitude gave birth to Seventh Heaven Experriences, which translates each of her thoughts into an exciting travel experience. In addition, she loves to write travel blogs and share her thoughts through the medium of quotes and blogs. Being a woman, Deepti has always thought of encouraging and strengthening her counterparts through the medium of Seventh Heaven Experriences. Through her experiences sections, her company is promoting Rural and Art & craft tourism so that she can help the women of downtrodden societies to earn wages and support their families.
"GoDaddy was my first partner to join me on my entrepreneurial journey, the platform helped me in translating my thoughts into a virtual reality in the form of my company's website," she said.
Smriti Singh- Founder, Ssuave
Born and brought up in small town Patna, Smriti Singh moved out after her schooling to Delhi for further studies. Post completing her bachelor's in journalism, although she had a full-time job as a communications specialist, her heart had always been with fashion. During the second phase of the pandemic, Smriti started exploring the idea of styling and fashion and came up with a concept of an online styling platform - Ssuave. It took her about four months of day and night. From creating a website, to designing the logo, to finding the right team, to working on the entire business plan, she worked on it single handedly. She finally went live with Ssauve in Sept 2021.
"Being featured on GoDaddy was a great push for a new entrepreneur like me. It creates a lot of buzz for Ssuave that has helped me find new brands and better opportunities," she said.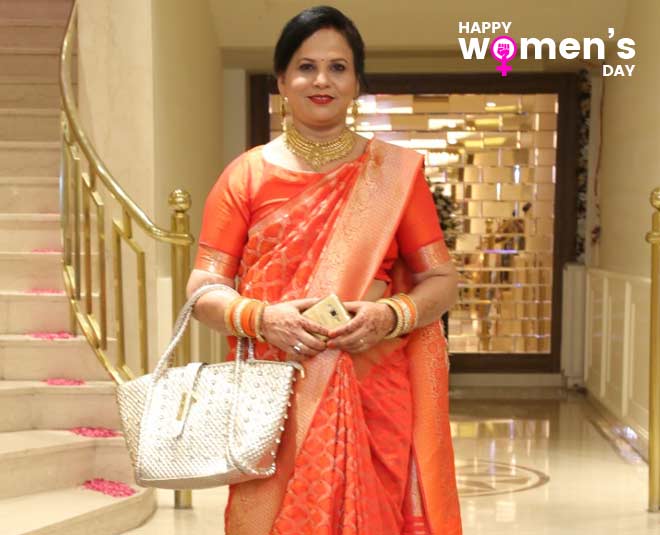 Seema Singh, Founder - NoDowry Shaadi
NoDowryShaadi (NDS) is marriage-based introduction service. Men and women who are against the dowry system can start with the new website and NoDowryShaadi in turn supports them with their better match they are looking for. The idea of opening up such a website came to Seema when she was asked for a Dowry (car around 15 lakh) demand after the ring ceremony of her daughter. The very next day she called off the engagement. That's when she thought that there might be many other people who might have gone through the same and are looking for Rishtas where there is no involvement of dowry.
Priyanka Rathore, co-founder & COO - Strata
As a lead real-estate analyst, Priyanka realised the huge gap in the CRE (Commercial Real Estate) investing space, saw the huge potential in the business opportunity, and co-founded Strata along with her husband Sudarshan. Priyanka envisions democratizing investment opportunities in Commercial Real Estate (CRE) in India like never before. She believes that women venturing into real estate should not get under the impression that it is overwhelming to be a part of a male-dominated industry as the current scenario has changed. Also, women should not get bogged down by the traditional notion that is often propagated about the real estate sector being a very closed and saturated sector.
Smita Deorah, Co-founder - LEAD
Started in 2012 by husband-wife duo Sumeet Mehta and Smita Deorah, LEAD, an Edtech Unicorn in the K-12 segment was born in Areri, 35 km from Ahmedabad, with just 14 students on day 1. Today, LEAD serves 3,000+ schools across 400+ cities and reaches more than 1.2 Million students and 25,000+ teachers. Prior to co-founding LEAD, Smita founded Sparsh, an NGO that worked for the uplift of Anganwadis in Mumbai in association with the Maharashtra government. A firm believer in continuous learning, Smita's goal is to bring quality learning to underserved communities and bridge the gap between the top 3,000 high-fee schools and the remaining 400,000 affordable schools, so that every child can be nurtured to his or her true potential.
Jayatri Dasgupta, Chief Marketing Officer - PayNearby
With over 20 years as an adept marketing leader, Jayatri has significant experience across marketing and product development, brand management, strategic planning, digital initiatives, revenue management, customer communication, organizational design and innovation. At PayNearby, she is responsible for creating and accelerating the company's marketing strategy and brand recognition across the country. She is focused on driving PayNearby's vision by building marketing programs and thought leadership to promote its exceptional product innovation and purpose-driven initiatives. A strong champion for women's leadership, Jayatri has been honoured by many renowned organizations for her work in marketing and communications.
Priti Rathi Gupta, Founder & Producer, Ishka Films | Founder, LXME | Managing Director & Promoter, Anand Rathi Share & Stock Brokers Ltd.
One Woman has many roles, but her aspiration is to bring empowerment and equal opportunity to women. Married at 19, she relegated all her dreams and aspirations to be pursued at a later stage, but soon went back to college, got back to working full time, and has made headway in the financial services industry – an industry dominated primarily by men. It has been 18 years since she started working full time, and Priti has never looked back. She envisioned a product where she would take her expertise in financial services and create something to help women achieve their dreams and overcome their financial fears, giving rise to LXME.