Sridhar Pinnapureddy, Founder & CEO, CtrlS Datacenters
The prime purpose of most entrepreneurs is to generate profits; but for Sridhar Pinnapureddy, the founder & CMD of CtrlS who runs Asia's largest Rated-4 hyperscale data center, it is to make a difference to the people, planet and society at large, while creating wealth for his shareholders. Hence his company focuses on two critical aspects - providing unparalleled services and solutions to businesses requiring datacenter colocation services and while doing so, address the environment challenges such as air pollution, water pollution among others. 
He believes in handing over a safe and better earth to the next generation. In his own words, "At CtrlS, we care for planet earth. It is important that we leave behind a healthy planet for our future generations." 
Sridhar staunchly believes in what Jochen Zeitz, the President, CEO and Chairman of the Board of Harley Davidson, said, "Sustainability is no longer about doing less harm. It's about doing more good." Through his company CtrlS, he has embarked on a journey to make the planet earth a livable place. 
He has embedded sustainability deeply in the company's DNA and has undertaken 200 innovations combined with 25 green initiatives to reduce carbon footprint and dependency on fossil fuels, usage of solar, bio-gas, eliminate water and resource wastage, recycling e-waste and adopting circular economy, become a paperless office and achieve sustainable outcomes. Because of such constructive measures to make the planet greener, Sridhar is regarded as the 'Green Man' of the Indian data center industry.
Asia's largest Gas Insulated Substation CtrlS Mumbai campus


The Green Man's Green Initiatives 
The data center industry is one of those industries that produces the highest carbon footprint. Currently consuming nearly three per cent of the global electricity, the data center industry is expected to take this figure to one-fifth of the electricity consumption worldwide. It will also account for 3.2 per cent of the total global carbon emissions by 2025. On the other hand, the industry is responsible for around two per cent of the global greenhouse gas emissions, which is equal to the carbon footprint generated by the aviation industry. It is predicted that this number may rise to 14 per cent by 2040. These numbers may rise further looking at the speed with which we are likely to generate data. According to World Economic Forum, the amount of data estimated at the beginning of 2020 was around 44 zettabytes, but by 2025, we will be creating nearly 483 exabytes of data each day globally. 
However, despite the alarming numbers, only a few data center businesses have woken up to adopt sustainable measures and cleaner energy. For data centers, reducing electrical power generation from fossil fuels, water conservation and waste management are the top three priorities. With the growing size and scope of their business, data centers have an obligation to implement more sustainable choices and solutions. For Sridhar, it is more than an obligation. It is a moral responsibility. Hence, Sridhar has implemented over 80 innovations in sustainability and energy efficiency. He has built all CtrlS data center buildings with blocks made from fly ash. The company has been deploying eco-friendly organic chemicals with sophisticated online monitoring across all its facilities in addition to an auto dosing system for cooling tower water treatment.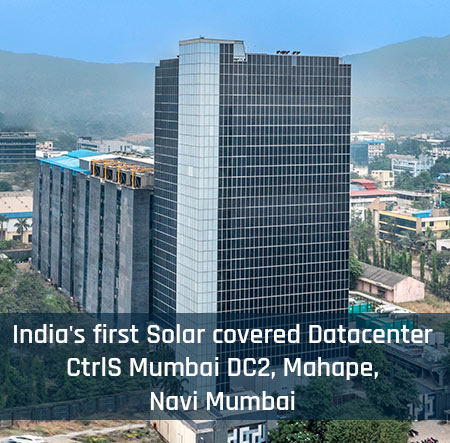 The company has also designed computer, electrical, lighting and mechanical systems for maximum energy efficiency and minimal environmental impact by curbing greenhouse gas emissions. Currently, CtrlS is also working on several energy-saving initiatives such as deployment of highly efficient servers, storage, and network components, low electricity consuming processors, and server visualization. It has also embarked on a journey to ensure best cooling practices, usage of chiller plant manager, VFDs for all HVAC equipment, variable cooling system, CTI approved cooling towers besides other measures. 
As the data center industry is infamous for consuming a significant amount of global electricity, CtrlS is moving towards running all its operations on renewable energy. Under Sridhar's vision and guidance, the company has built India's first solar panel covered data center and 100 per cent air pollution free data center and has also deployed Asia's largest Gas Insulated Substation (GIS). Its Mumbai based hyperscale data center is India's largest solar powered datacenter which has a façade with 1.3 MW installed capacity generating 1.8 million units of power every year. This offsets CO2 emissions by 620 tons per year. On the other hand, the CtrlS Bangalore facility has 30 KW solar plant operational. The company aims to run 85 per cent of its power requirements through renewable energy. To achieve this, it is building a 500-acre of solar farm to replace fossil fuel dependency and generate solar power ranging between 300 to 500 MW. 
The company is also optimizing its storage capacity with the use of energy-efficient storage devices, de-duplication & compression, load balancing, reducing power density requirements, eliminating redundant data and several others. Due to such novel and diligent efforts, CtrlS has lndustry lowest PUE of 1.35. The company also undergoes regular Ashrae audits that help it identify the areas of energy efficiency improvements. 
Thanks to such efforts, CtrlS Datacenter today enjoys largest footprint of platinum-certified green rated-4 data centers across the globe. The company's facilities are also certified by US Green Building Council (USGBC). Sridhar has even built the world's first LEED Gold certified v4.1 O+M green data center and LEED Platinum-certified v4 O+M green data center. Under Sridhar's leadership, the company has won Energy Efficiency Awards for 10 consecutive years from CII and other global agencies.   
Environmental Issues translated to opportunities
Sridhar has built the CtrlS Noida center as one-of-its-kind that challenges environmental disruptions like frequent earthquakes and a very high level of air pollution. The Noida data center facility is India's first 100 per cent quake-proof data center, which can withstand any natural calamity including earthquakes measuring 8 or above on the Richter scale. CtrlS Noida facility complies with zone-5 standards and has two active power feeds from two separate EHV substations with Active + Active feeds has resulted in the industry's highest uptime guarantee of 99.995 per cent. The Noida data center is also India's first 100 per cent air pollution free facility that helps take air pollution hands-on. It has deployed an air filtration plant to process the contaminated air, scrub it and then release the clean air into the data center. This keeps the servers, storage devices, networking components and other devices within the facility in a healthy state preventing them from corrosion due to sulphur  and other chemicals in the air. It provides Sulphur free air through airtight envelope H2S and SO2, with double-layered perimeter walls, air scrubbers, +ve pressurized system along with treated fresh air system which is healthy for humans present at the datacenter as well as IT infrastructure deployed.
Siddharth Jain, Managing Director, EPI India says, "CtrlS is among the best data centers in the country. It follows Rated-4 standards defined by ANSI earthquakes and contain air-pollution through  its air filtration plant, which is safeguards IT infrastructure from corrosion is safe for human lungs."
Believing in zero wastage, Sridhar has installed stormwater harvesting at all of CtrlS facilities. The company recycles nearly 70-90 per cent of water. Together, all the initiatives have helped CtrlS eliminate over 2,25,000 metric tons of CO2, recycled nearly 10 billion litres of water, reduced 95 per cent of paper usage saving 10,000 plus trees, and displacement of carbon equivalent to 149,172 cars driven in the last 900 days, 77,225 tonnes of battery waste and 2.35 tonnes of e-waste recycled/disposed off in an environmental-friendly manner and 18.5 Gwh of annual savings through its energy conservation methods.
Gopalakrishnan, MD, GBCI – Southeast Asia & Middle East Markets added, "Sustainability is embedded in the DNA of CtrlS, a company led by Sridhar Pinnapureddy – 'The Green Man of Indian Datacenter Industry'. The company is focused on best practices in energy management, good indoor air quality management, water conservation and efficiency management, waste management, etc. All CtrlS Rated-4 Hyperscale data centers are certified as LEED Platinum v4 O+M by GBCI, setting a benchmark for the data center industry both in India and around the world."
Indeed, every move that this humble entrepreneur has taken is intended to benefit the customers and the earth. Sridhar, who started his entrepreneurial journey with just Rs.20,000, a second-hand computer, a Fax machine and three working tables today leads a $250 million Pioneer Group comprising of Pioneer e-Labs, CtrlS Datacenter Ltd, Cloud4C, Schnabel and other group companies. He has been recognized for his work in business and social initiatives and is honoured with several awards including EY Business Leader of the Year Award - 2015, TV5 Business Leader Award - 2015, Rajiv Gandhi Shiromani by Global Economic Council, Best Entrepreneur of the Year by ATA, and many more.
Under his leadership, the company has acquired various certifications, some of which are TIA Rated 4 certification for industry's highest uptime of 99.995 per cent, ISO 20000-1 for efficient and timely service delivery, ISO 27001 for ensuring data security and safety, ISO 22301 for ensuring smooth and seamless business flow during a disaster, SOC-1 and SOC-2 for organization-wide process, Cloud Security Alliance and PCI-DSS amongst several others. 
Sridhar now envisions taking this legacy further. He now looks at using near hundred per cent renewable energy by 2025 (or as per permissible Govt limit) across all his facilities, installing onsite solar on new buildings and being carbon neutral by 2030 while using 50 per cent of recycled water by 2024 for the Mumbai data center. CtrlS has also installed a waste disposal program at its Mumbai facility. His effort current and future efforts are aligned with the vision to make earth a better place for the future generation whilst offering the best of the data center services to businesses without any compromise in availability, quality, scalability, security and speed of delivery. The Green Man of Indian Datacenter Industry is on his way to realizing his dream of making planet earth a healthy place.
See What's Next in Tech With the Fast Forward Newsletter
Nothing to see here - yet
When they Tweet, their Tweets will show up here.